Meet our Trainers!
As Gosforth's friendliest gym, we also have Gosforth's friendliest staff and personal trainers – a mixture of knowledge, enthusiasm, patience and understanding that enables them to take you along the road to fitness whatever your goals may be. Whether you simply want to lose weight and increase fitness for health reasons, or you're looking to improve performance as an elite athlete, we'll match you with staff who can guide you every step of the way.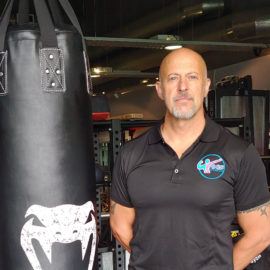 Steve Davis
Owner
I have been training clients for over 20 years. I specialise in working with pre and post op clients who have special needs. As I am sports massage qualified I thrive off helping clients who are injured, using sports massage to relieve symptoms then offering specific training to aid recovery. My experience lies in martial arts and strength training, offering the only H.I.T facility in the North of England. Here we offer brief but intense workouts that no other trainers can offer.
Qualifications:
Level 3 Advanced Fitness Instructor
Level 3 Advanced Personal Trainer
GP Referral Exercise Specialist Instructor
High Intensity Trainer (H.I.T)
Sports Massage Therapist AMSMA
Level 4 Sports Injury Massage
Osteopathic Manipulative Treatment Therapist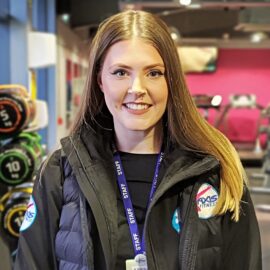 Karina Lucy Brown
Instructor
Hi, I'm Karina. My background is in the dance and performing arts industry. I have been fortunate enough to travel the world working as a professional dancer and dance teacher. I am currently studying my masters degree in Arts, Business and Creativity at Newcastle University. I am also a Yoga enthusiast and I am currently working on developing my skills to become a yoga instructor. Linking both dance and fitness is a passion and that is what you can find me doing here at Axis Fitness. You can also find me behind reception, chatting to our members as well as on the gym floor, making sure you're all happy.
Level 2 Fitness Instructor
Bachelor of the Arts (Hons) in Drama
Yoga Diploma
Anatomy and Physiology Diploma
Arts, Business & Creativity MA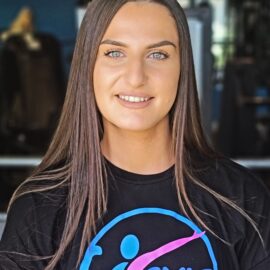 Carly Ferguson
Instructor
Hi, I'm Carly
I have always had a passion for health and fitness which continues to grow. Starting from playing sports at a young age to studying Sport and Exercise Science at university to achieving my personal training qualification, I continue to learn and expand my knowledge every day. During university I gained some experience during placement in GP exercise referral which helped me develop an understanding for exercise prescription in specialist populations.
Qualifications:
Bsc (Hons) Sport and Exercise Science
Level 2 Fitness Instructor
Level 3 Personal Trainer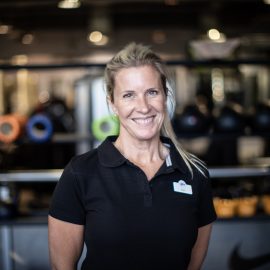 Sara Davis
Owner
Nothing is more rewarding than seeing a person make changes to their lifestyle and achieve their goals and at Axis Fitness, you can do just that !
Working mainly in the office, I look after the Admin for the gym, keeping the wheels turning while the Instructors look after you. I train in the gym and sometimes cover shifts, so say Hi to me next time you are in.
See you soon 🙂
From our members
Great gym, fantastic team of skilled instructors who are always on hand to help and advise. Highly recommend!
Great gym with great staff. Never really been sure what I am meant to be doing in the gym but the staff here gave me a programme to follow and advice on what I should be eating. Anyone worried about starting up need not a very welcoming friendly atmosphere
Excellent team excellent instructors excellent equipment! I haven't felt this comfortable going in to a gym on my own... I now really enjoy the gym ... definitely recommend ... brilliant!
Surely the most organised and best equipped gym in the Newcastle area.
Been a member here since August now after joining on a years pt program and getting great results dropped over 4 stone and counting feeling stronger after every session trained with Steve Sean Paul and Al they all push you too achieve your max potential and always there to offer advice and answer your questions great gym great staff.
After being diagnosed with two badly prolapsed disks in my spine, two doctors independantly said that spinal surgery was the only thing that would get me out of pain. Steve Davis prepared a specific exercise program for me and I am now almost 100% ok. Highly recommended
Brilliant gym. Nautilus resistance training machines are the best in the world and can produce the fastest results. Steve Davis is one of the most knowledgeable people I have met with regard to exercise physiology and nutrition; using this to create practical and achievable goals. Loving the new gym!
For someone who hated gyms and said would never go in one I love it. Fab gym..friendly and very helpful staff. Thoroughly enjoy my workouts and what's more the whole family goes. Great variety of equipment to use.
Get in touch
We're conveniently located in High Gosforth Park with plenty of free car parking and we'd welcome you to come in and have a look around – Try Us, Like Us, Join Us!